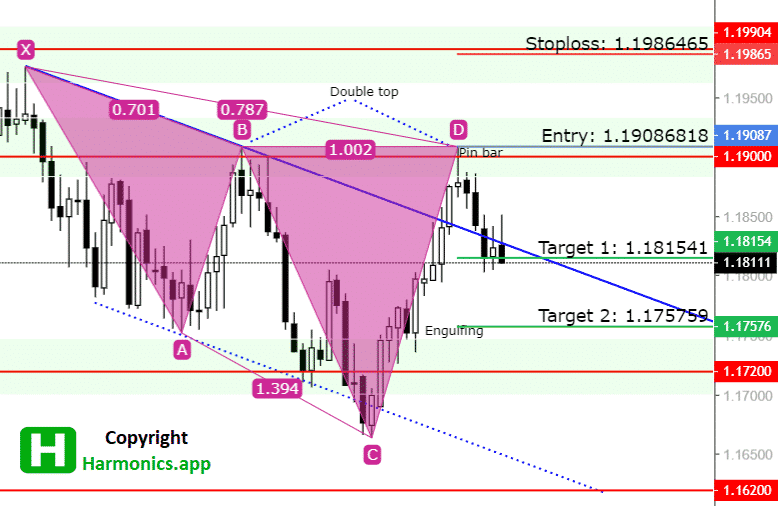 Do not forget to join facebook community where you can see trading ideas, strategies and share...
read more
Cypher Pattern In Forex
The Cypher pattern in Forex is widely used because it gives you a very high return rate.
The Cypher was identified by the Darren Oglesbee and it is advanced pattern formation, but still uses Fibonnaci ratio to determine pattern points, ABCD.
It is similar to Butterfly pattern because it looks similar and it shows on the same place, close to end of a trend.
If you trade Cypher patterns accurately you can have a really good risk to reward ratio and winning rate.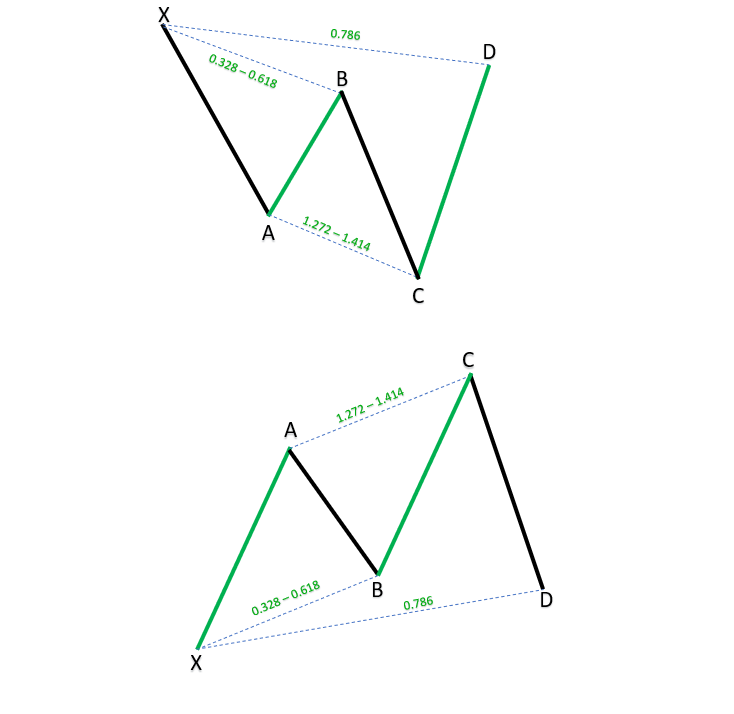 How Do You Identify a Cypher Pattern?
The Cypher pattern rules are these:
B point has to retrace between 38.2 and 61.8 percent of X-A leg, at least 38.2 percent, but not exceeding 61.8 percent
C point is an extension leg and goes beyond A point, but must move to at least 127.2 percent. It is normal for it to go as far as the 113.0 – 141.4%. It is considered invalid if it moves beyond the 141.4%
C-D leg should break the 78.% level of X-C leg
The PRZ (potential reversal zone) of D point is a wide range where the price has to get to. Price can move anywhere between 38.2 to 61.%
By using above rules to detect and to draw the Cypher pattern you can have a success rate similar to Gartley and Bat pattern.
If you watch the market you can identify the Cypher pattern in a trend, but the best is to look when the trend is calm. That way you will have a more precise pattern where the pattern can form in its full shape.
If you are trading when the news is published you can get false formation that can trick you with false trade signals.
Bearish Cypher Pattern
Bearish Cypher pattern appears in a downtrend because it will show you D point for entering into sell order.
When the downtrend forms you look for X point that is the start of any swing move. Then you need to wait until other points show up.
All other points are below the X point and that is the rule for bearish Cypher pattern. X point is the highest point and C point is the lowest point.
Then, D point is above all other points, but only below the X point. That means D point must be between X and A point.
Point A and point C has to make lower lows in a downtrend.
You should enter with a sell order around D point and stop loss should be above X point.
Targets are A, B and then C point.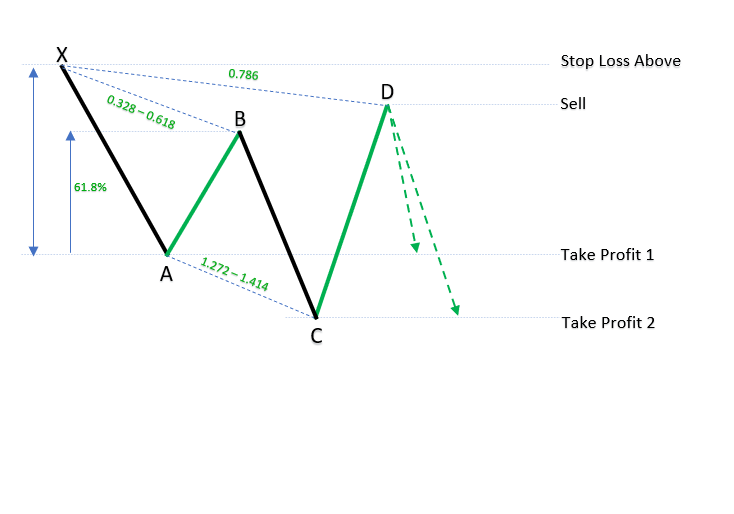 Bullish Cypher Pattern
Bullish Cypher pattern appears in uptrend where A and C point make higher highs.
X point is the start of the pattern and D point is between X and A point.
C point is the highest point of a pattern and X point is the lowest point.
You should enter around D point when the market makes the reversal.
Stop Loss should be placed below X point which is the lowest point of the pattern.
Targets are point A, B and C where you should lock your profit when you reach B point.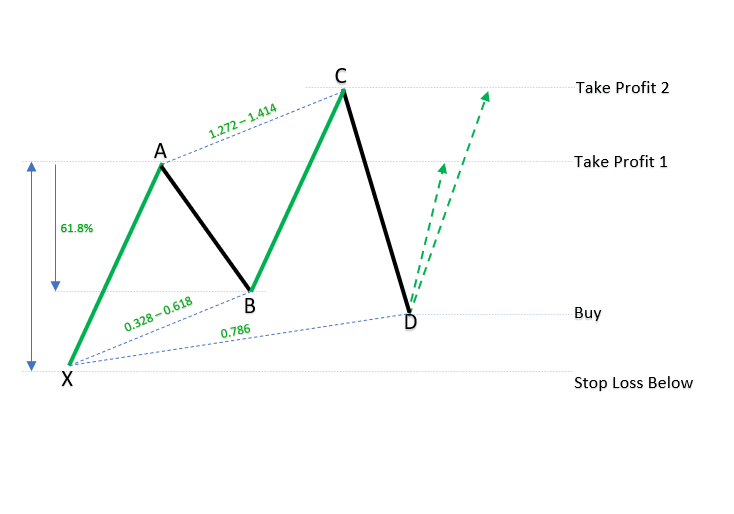 Harmonic Patterns Cheat Sheet
All Harmonic Patterns on one place with important tips for trading.
Cypher Pattern Trading Example
Example of bearish Cypher pattern below is taken from the Harmonic Scanner app which you can also use to draw harmonic patterns automatically for you.
The Cypher pattern has formed with all points by the Cypher pattern rules I have listed above.
X point is the starting point and point A and C have lower lows. D point is between X and A point which makes this pattern complete.
Now, I need to enter into the trade at the current level with stop loss above X point.
I should leave some space between X point and Stop Loss level just in case the market experiences some volatility with spikes that could activate my stop loss.
Target price will be at the A, B and C point. When the market reaches my first target, and that is B point I will move my stop loss to be even so I do not lose any money if the market reverses back up.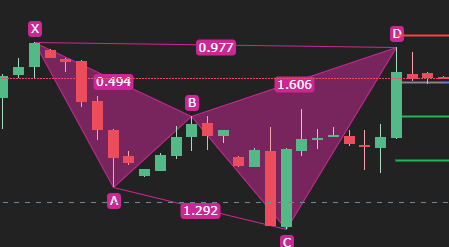 Second Trading Example
 Another example with harmonic scanner is below where Cypher pattern with price action analysis shows great example of trading opportunity.
Pattern is showing precise entry point with profit targets.
Firt target at $1.181541 is reached and thus pattern gives great number of pips. Almost 100 pips with this pattern.
If you want to stay in the trade and catch second profit target you can do that with entire trade size or you can take partia profits.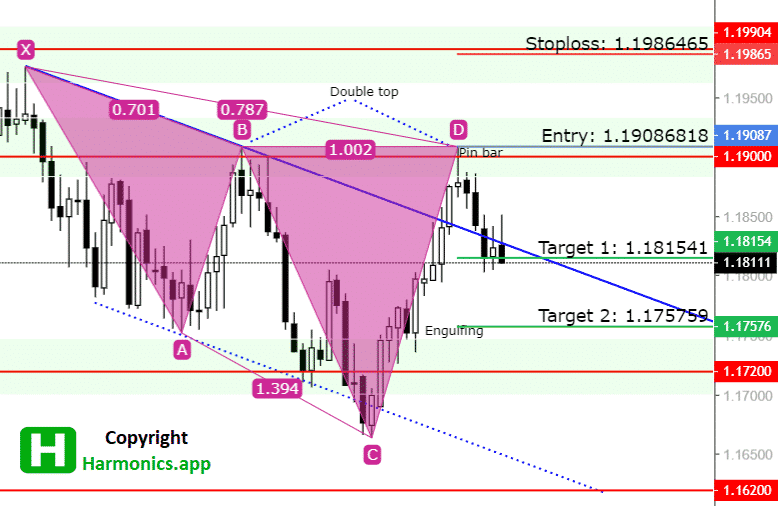 As you can see you get entire levels you need to enter and exit the trade. 
Scanner will give you notification when the patterns appears and it will show you all the levels.
Your job is to decide will you use only harmonic pattern entry levels or you will confirm them with additional tools like support/resistance or something else.
Conclusion
The Cypher pattern is one of the most profitable harmonic trading patterns.
It appears on the end of a trend and it is a reversal pattern with D point as entry point.
To draw the Cypher pattern you should pay attention to draw D point between X and A point. point A and C will have higher highs in bullish Cypher and lower lows in bearish Cypher.
If you want to use a harmonic scanner which will draw a Cypher pattern automatically for you and send you notification then check the scanner on the link below.