NZD/CAD – Bat Pattern
Update 22.08.2022 – Successful
NZD/CAD has moved outside downtrend channel a week ago and outside uptrend channel few days ago. We have now price returning back down to the support at 0.81820 level.
That support is inside uptrend channel which makes this are confluence of support. The 0.81820 support in the past has acted as stronger resistance than support so we could see price moving through easier than in a case of uptrend move.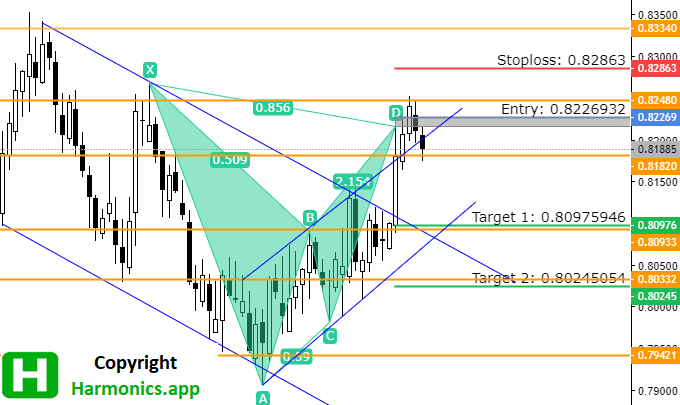 UPDATE – pattern ended as successful after four days. 191 pips target reached.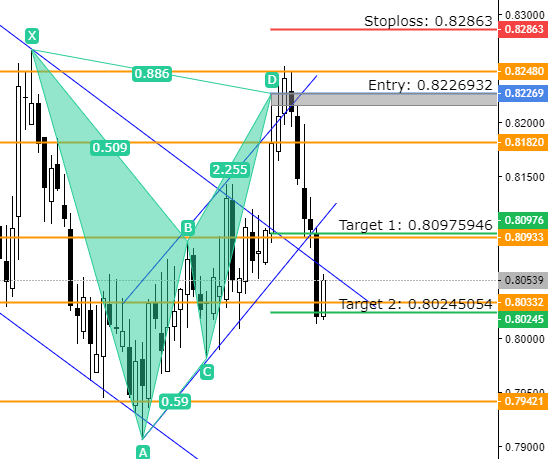 Facebook Community
Do not forget to join facebook community where you can see trading ideas, strategies and share your own trading ideas and strategy
We have possible retrace back down to test the downtrend channel resistance as a new support at 0.80975 level.
Entry level on Bat pattern shows 0.8226 as a start of this sell trade with potential reversal zone expanding to 0.82159.
The 0.80975 is a first profit target for the sell trade which is a confluence of support from horizontal support and downtrend and uptrend channel.
This support zone should be treated as a strong support which we can back up with previous testing on 15.05.2022. That time the support at 0.80933 prevented the price from declining even further after strong sell off.
Second profit target at 0.80245 is below second support which is less likely to be reached in this sell off, but it is above support level that has held the price from going down in June.
This was support where the price bounced back up for 200 pips so it represents significant support.
Stop loss is above the confluence of resistance where we have uptrend channel resistance and horizontal resistance at 0.82480. This means the price will have a hard time to reach stop loss level.
Price Action Analysis
With this PDF you will have step by step guide how to analyse harmonic patterns detected by the Harmonics.app scanner