EURUSD Harmonic Pattern Forecast
Week ended with the price above $1.17200 strong support horizontal level and it is still inside the Bat pattern potential reversal zone.
What you see here is the price had a hard time defining the direction. Week started with small indecision candles  and on Wednesday the price broke below, but the break did not last for too long.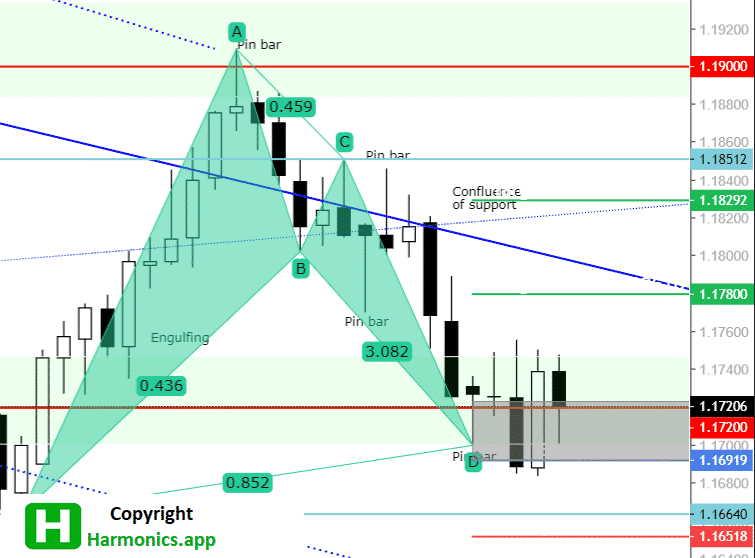 On the next day the price returned back above the horizontal support line where you have a strong bullish engulfing candle.
If you compare bullish engulfing candles with the rest of bearish candles you can see size and formation points the buyers are stronger.
With this new bullish signal on the support level Bat pattern entry area gives me more confidence. But, I am still cautious because the price is in the middle of a downtrend channel and I would like to have more confirmation signals for the bullish move.
The profit targets of the Bat pattern are ok and the first one is close to the downtrend resistance line. From the current price that is 60 pips which is a nice number and that goal is more likely the price will reach next week.
From there the price could find resistance which could activate sellers and return the price down.
If we take a look at the previous bullish moves we can see the price reached $1.18000 which could be the target for this bullish move. From that price we could see the market turning again down to $1.17200.
If you want entry and profit target levels, register with powerful harmonic scanner.
Get notification on the telegram when trading idea appears so you do not miss trading opportunity.
Powerful harmonic scanner