EURUSD Harmonic Pattern Forecast
Last week we had a nice bearish move where the price reached Shark pattern profit targets as it was planned in the last two analyses.
Market has respected support levels and we had a nice bearish Pin bar on the confluence of support.
Since then the price formed strong bearish candles and the week ended on the strong support.
In the coming week we have a Bat pattern which suggests PRZ or potential reversal zone, where the price could find support.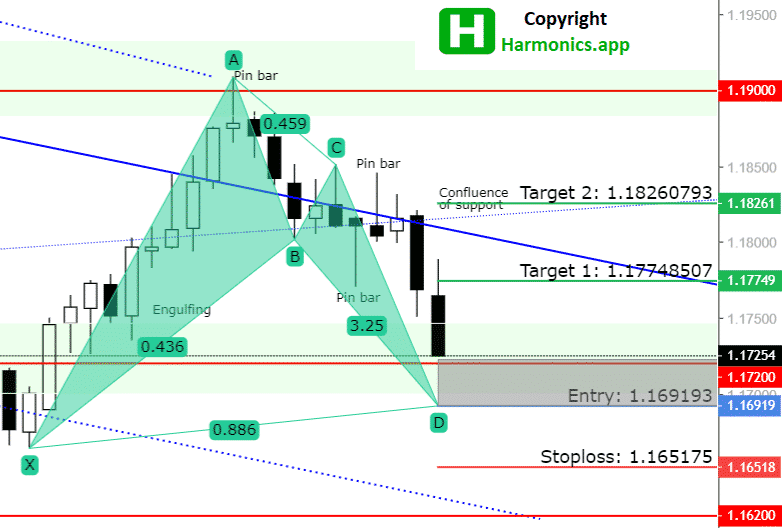 If we take a look into price action analysis, technical tools show us that on the $1.17200 we could find support. There we could see buyers stopping the price and sellers getting out.
This move could lead the price to make a pullback to $1.18000 which is between two Bat pattern profit targets.
First profit target is at $1.17743 and second one is at $1.18255.
If we look on the technical side the tools on the chart show a downtrend resistance line around $1.18000 level. At that point we could see price pullback stop and then continue back down because of strong bearish sentiment that is visible on the chart.
One thing to watch here is the Bat pattern which is not completed yet so there could be potential changes in the PRZ level. But for now everything is looking good. 
If you want entry and profit target levels, register with powerful harmonic scanner.
Get notification on the telegram when trading idea appears so you do not miss trading opportunity.
Powerful harmonic scanner