EURUSD Harmonic Pattern Forecast
UPDATE:
Shark pattern

02.09.2021.
R:R 4.04.
successful

Cypher pattern

02.09.2021.
R:R 1.94.
successful
Last week's analysis with harmonic patterns is showing good results where the first profit target has been reached.
The market has reversed on the week start after the bearish Pin bar has formed right on the strong resistance level, $1.19000. As you can see there was a double top that was also one of the signals of possible bearish move.
The price started to move down and it stopped right on the cross between weekly uptrend line and daily downtrend line. This is visible as a confluence of support on the chart.
The price stayed there for a day and on Friday the price started its move down. The week ended on the weekly support line.
What we have here is a bearish move where the price has entered into a daily downtrend channel.
First strong support is around $1.17200, but we can see on the harmonic pattern targets we have $1.17800 area as a possible exit level from this bearish move.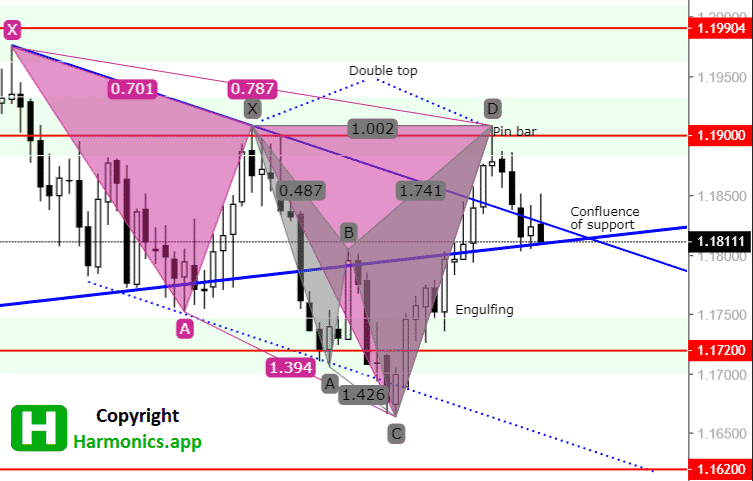 First we have a cypher pattern which has a similar entry level as shark pattern. Both patterns show similar levels so this gives more confirmation where the market could go.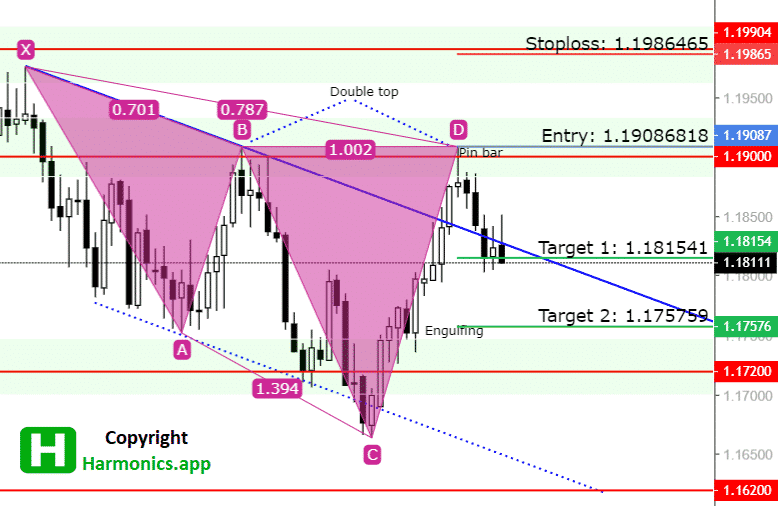 We could see the price moving to $1.17800 and then pull back to the weekly uptrend line and then continue moving down to $1.17200.
To confirm this move we need the price to close below the weekly trend line on a daily basis.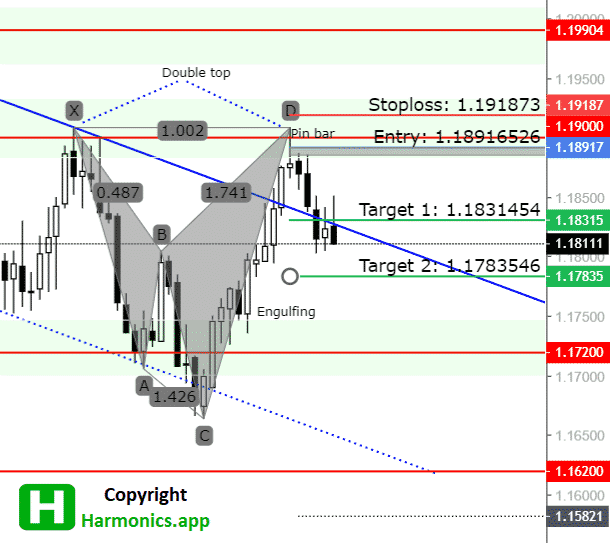 Bulls need to close above $1.19000 to turn the market in their favor. For now there is no strong signal this will happen.
For the harmonics.app GOLD plan members below are trading strategy I am using. 
Only for GOLD Plan Members
…………
If you want entry and profit target levels, register with powerful harmonic scanner.
Get notification on the telegram when trading idea appears so you do not miss trading opportunity.
Powerful harmonic scanner