EURGBP has formed a Bat pattern on the daily time frame targeting 0.85333 level.
What we can see on the chart is the price in the downtrend channel.
The price is just breaking below horizontal support level with a high chance of moving further down.
The entry point is around 0.84239 which is just close to the downtrend channel. This is also an area close to a confluence of support.
Confluence of support consists of downtrend channel support and horizontal support.
With the support levels we could see price retracing back like it happened at the start of this month.
Better option to enter into the trade is to wait until the price reaches a downtrend support line. There we could see some kind of candlestick patterns which would give more confirmation to the bullish scenario.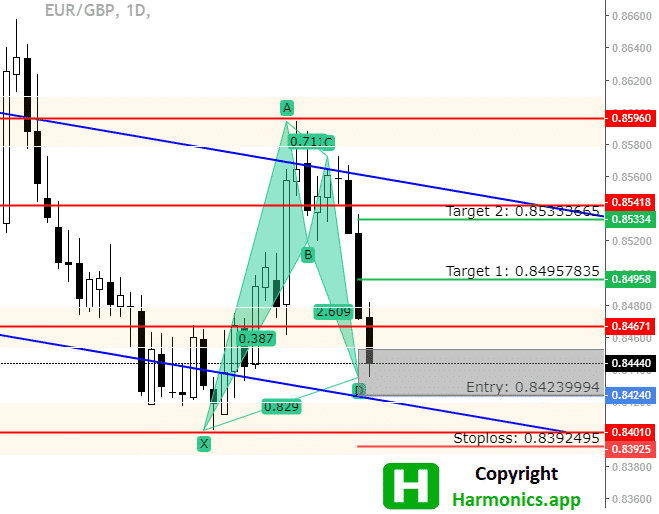 Facebook Community
Do not forget to join facebook community where you can see trading ideas, strategies and share your own trading ideas and strategy
Stop loss is below horizontal support which is also low for the price it did not break on the last attempt.
That gives more strength to the support where the stop loss is less likely to be activated.
First target point at 0.84957 is above the first resistance level, but in the middle of the downtrend channel.
And it is also in the between two support/resistance lines which makes it more likely to be reached without any problems.
Second target is at 0.85333 which is close to the confluence of resistance where the downtrend resistance line is crossing with the horizontal resistance line.
This puts pressure on the price so I am expecting the price will have a hard time to reach this level.
The better option is to target 0.85250.
With risk to reward 3.65 it is a great opportunity to prepare for a trade.
Price Action Analysis
With this PDF you will have step by step guide how to analyse harmonic patterns detected by the Harmonics.app scanner
Price Action Analysis Details – For GOLD members
Join and read below all details about analysis on thih pair.