GBP/ZAR has created a Bat pattern where the price is now in the PRZ with close to entry level.
The price is currently in the uptrend channel with the price right on the uptrend channel support line.
The price returned from the highs in the previous few weeks with strong bearish candles. And currently the price has reached a confluence of support where we have horizontal support and uptrend channel support.
Current support level at 19.502 is a relatively strong one which we can see in the previous attempts when the price tried to break below. The price had a hard time and the price bounced several times before breaking below.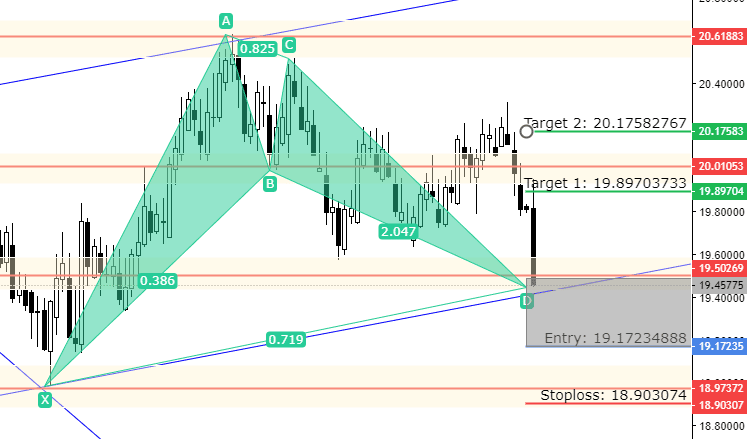 Facebook Community
Do not forget to join facebook community where you can see trading ideas, strategies and share your own trading ideas and strategy
We have a bullish Bat pattern suggesting a move up with the first target at 19.897 level. Potential reversal zone is at the current price level so the entry could be right now.
With the past experience around this level we could see price slightly more down close to entry level 19.172. Because the price in the past did not immediately reverse from the current support level, but it was broken below. And then the price reached 18.973 level before turning the direction and moving up.
In this we have a wide PRZ with an entry level close to 18.97 level where the price should find a strong demand zone meaning strong support.
Stop Loss is below support level at 18.97 so I would pay attention to this level and move it more down. With this move if the price does not stop at the entry level I would move entry slightly down.
Then, the first profit target is at 19.89 which is below the first resistance level which is good.
We can expect the price to reach the TP1 if we see a price returning above 19.502 level.
Second profit target is slightly above resistance level 20.01 which is reachable because we can see price reached slightly higher levels when moving up. So, TP2 is also reachable.
With this R:R = 3.73 is a great opportunity.
For updates please join facebook group where I share if I have entered and if I have moved stop loss or take profit levels.
Price Action Analysis
With this PDF you will have step by step guide how to analyse harmonic patterns detected by the Harmonics.app scanner