GBPPLN Shark Pattern Forecast
The price had a strong bearish engulfing bar a few days ago right on the resistance level at 5.40686, but the price did not follow.
Price returned back up to resistance level and did not close above current horizontal resistance level.
This resistance level acted as a strong resistance in the past where the price could not break above.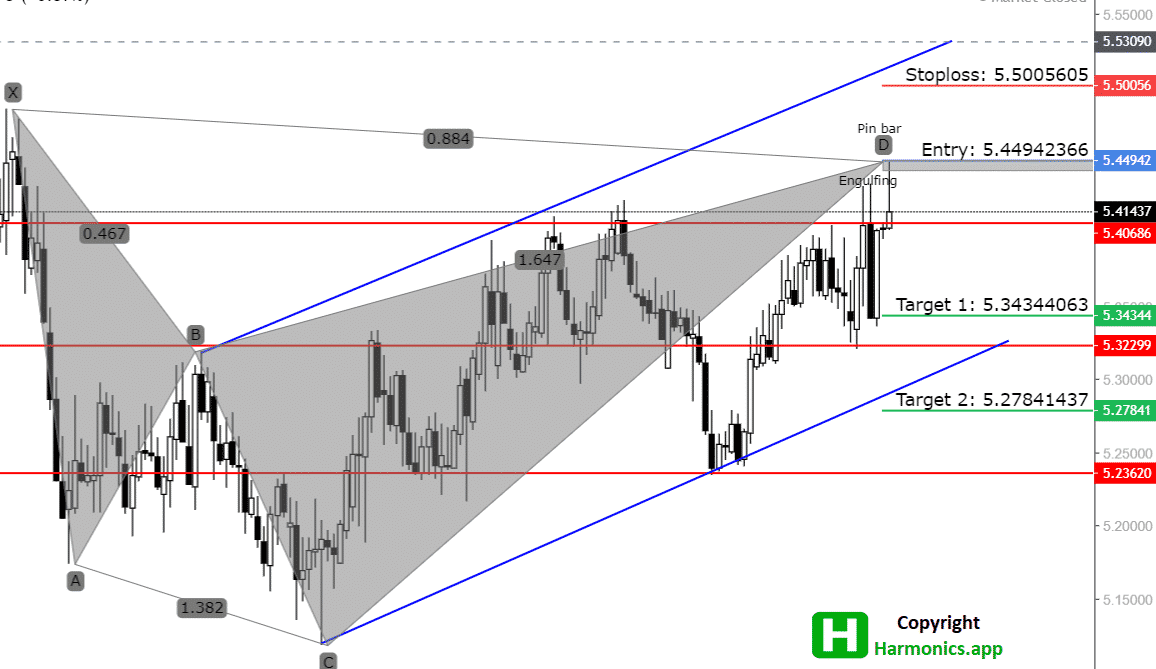 For now, the price is still below resistance level and until it is below on a daily basis market looks bearish.
Now, we have Shark pattern which shows entry just little above resistance level which is a potential entry level.
To back up the Shark pattern entry levels we have bearish daily Pin bar on Friday. It is price action signal as a candle pattern that gives more confirmation to the current market status.
So, we have horizontal resistance level, bearish Pin bar and Shark pattern entry level in the same place.
First target is close to the first support level which looks like a great exit level.
Second profit target does not look promising because it is below the uptrend channel support level so the price could find a hard time reaching that level.
Stop loss is above previous highs which gives enough room for the price to fluctuate without being reached quickly.
Check other trading analysis inside – Shark Pattern Trading articles
Harmonic Patterns Cheat Sheet
All Harmonic Patterns on one place with important tips for trading.